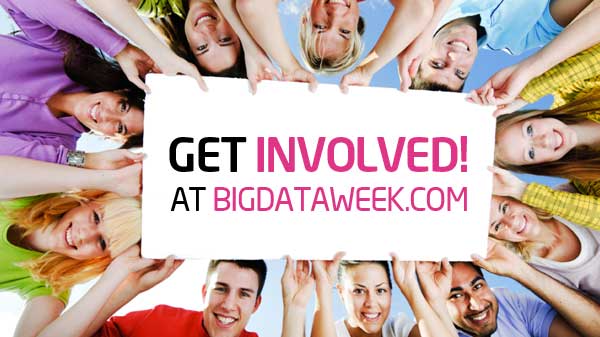 Big Data Week is one of the most unique global platforms of interconnected community events focusing on the social, political, technological impacts of Data.
It brings together a global community of data scientists, data technologies, data visualisers and data businesses spanning six major commercial, financial, social and technological sectors.
The festival connects a number of global cities through locally hosted meetups, events, networking functions, data visualisation demo's, debates, discussion and hackathons. Events are designed to provide a platform to educate, inform and inspire – organised by people who are passionate and knowledgeable about data. We're a self organising community where anyone is able to host and create an event during the festival; making the our platform completely open and community driven.
We connect communities of specialists; Data Scientists, Data Technologies, Data Visualization and Data Business – Across major industry sectors and themes; Media and Entertainment, Health and Science, Financial Sector, Retail and FMCG, Public and Government and Social and Personal.
---
How did Big Data Week start?
Founded by Stewart Townsend and Andrew Gregson, Big Data Week was a way to unite the global data communities through series of events and meetups. It has quickly become the 'go to brand' for a global perspective on Big Data and emerging trends. Big Data week is hosted across a number of major city hubs reaching across Europe, Americas, Australasia and Asia Pacific. The festival this year is being produced by media140 Worldwide.
"I created Big Data Week to unite the global big data community, as a co-organiser of London based Big Data events I felt there was a gap between meetups across not just London but the globe, communities tended to stay in one part of the Big Data landscape and thus the idea was born to bring together all the communities and networks across a week of events"
Stewart Townsend, Co-founder Big Data Week
"The role of data in business, health, science, technology, retail and entertainment will be a key differentiator for the organisations that succeed in the next digital wave. Big Data Week educates and creates new opportunities for organisations of all shapes and sizes in understanding what big data can do for them now and in the future. media140 are very excited to be able to lead the development of this global initiative"
Andrew Gregson, Founder media140 Worldwide & Co-founder Big Data Week
How do I get involved as a city partner?
Passionate about building communities? Take the lead as a city organiser and have a stake in the success of #bdw15 in your city. Find out more and register your participation at bigdataweek.com/citypartner/
How do I get involved as a sponsor?
Big Data Week has a unique global local opportunity for sponsors wanting to put their organisation into the heart of our community. We have a number of packages to suit global and local hub partners. Find out more at bigdataweek.com/sponsor/
How do I get involved as an event organiser?
Easy… just visit bigdataweek.com/eventorganisers/ to find out more about taking part and organising events in your city.
How is Big Data Week possible?
Big Data Week is only made possible by the support of our sponsors but also all the meetup organisers globally who continue to dedicate their own personal time to organise monthly events to help educate you about the areas you have a specific interest in.