The Numbers Behind The High Street Retail Battle
In the run up to Christmas 2013, what would have influenced you to purchase items on your local high street, rather than online?
The UK's shopping habits have changed beyond recognition over the past decade. The high street's continuing decline at the expense of global online retailers is well documented. Even with recent and much-publicised government initiatives, such as the Mary Portas-led review, which are intended to drive footfall back to local centres, most are still struggling with shop closures and high vacancy rates.
Acxiom polled 2,582 online shoppers in late October and asked what factors would influence them to make purchases on their local high street rather than online in the run-up to Christmas 2013.
The results reveal that local authorities could even now potentially have a great deal of influence over their residents' spending behaviour. In particular, the availability of free parking (18%) and late evening shop openings (18%) is a significant incentive to shift shoppers from armchairs to stores in December.
Additionally, and perhaps not surprisingly, having a greater variety of shops (14%) on the high street will attract pre-Christmas shoppers. The proliferation of betting and charity retailers, together with an increase in vacant premises, has led to a decline in the overall tenant mix which gives shoppers less choice. Interestingly, filling these empty shops with 'pop-up' shops selling locally produced goods(4%) is not deemed an attractive enough proposition to change the pattern of spending, in spite of government advice contradicting this view.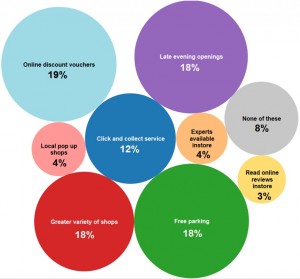 What would persuade you to shop on the High Street instead of online?
Acxiom's research also shows that technology is not the high street's enemy – the power of online retailers who also have a physical high-street presence should not be underestimated. Email or social media campaigns that seek to incentivise store purchases through discount vouchers (19%)resonate the most with price-sensitive shoppers. By ensuring that these offers are location-specific and can be redeemed in-store on a smartphone, brands will not only be able to engage consumers in both on- and offline environments, but also closely monitor their path to purchase.
Recent innovations such as "click and collect" (12%)also seem to be attractive to shoppers – although at this early stage, perhaps not to the extent that many are predicting.
Finally, neither having in-store expert advisers (4%) on hand to answer questions in person, nor the ability to access online customer reviews within a shop (3%) are enough of a pull for tech-literate shoppers. Most will complete all of their required research online and seek the advice of friends and family prior to a high-street visit.
The statistics from our survey go to show that there is still plenty to play for in the weeks leading up to Christmas Day. The more convenient the shopping experience, the more likely people are to drop in-store between now and December 25.