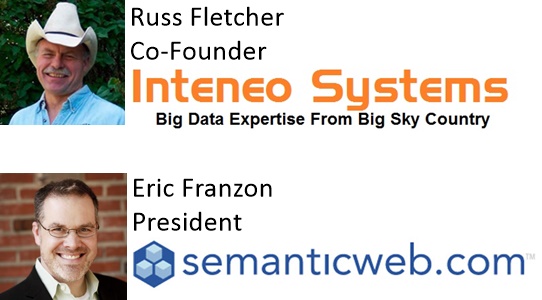 Brown Bag Lunch: Big Data for Dummies
TIME & LOCATION
Wednesday, May 7, 12:00 PM
MonTEC
1121 E. Broadway
Missoula, Montana
DESCRIPTION
Everything you ever wanted to know about Big Data but were too afraid to ask! Led by experts Eric Franzon of SemanticWeb.com and Russ Fletcher of Inteneo Systems.
ABOUT THE SPEAKERS
Eric Franzon works as a Semantic Technology consultant, trainer, evangelist, journalist, community organizer, and business analyst. Eric regularly teaches and consults about Semantic Web and Linked Data concepts. He is interested in Open Data, Cognitive Computing, and how to make Big Data systems smart(-er).
Eric directs a daily publication, SemanticWeb.com, and a large, detailed IT industry conference (www.semanticconference.com). A lifelong learner and educator, Eric has taught Semantic Web concepts, improvisational comedy, blues harmonica, theater, and gender studies. Skills and specialties: HTML, CSS, RDF, RDFa, Microdata, SPARQL, e-commerce, website development, community building, business analysis, technical research, training development, marketing/communications, Semantic Web, systems and process management, operations. Eric lives in Missoula, MT and travels frequently.