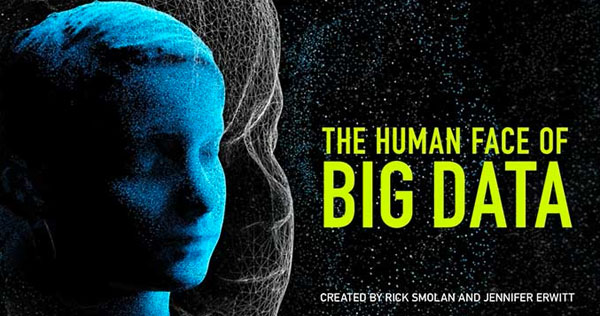 Our Planet is Growing a Nervous System
The Human Face of Big Data – Large Format Illustrated Book and iPad App
By Rick Smolan
My ten year old son recently heard me speaking on the phone about this project and asked me what Big Data is. I thought for a minute and then said, "Imagine if the whole human race had been looking through one eye for all of our existence and, all of a sudden, scientists gave us the ability to open up a second eye. You're not just getting more information, more data; you're literally getting a whole new dimension. You're getting depth and perspective, 3D vision. That's what Big Data is, not simply more information but a new way to see or extract meaning from a sea of information. Simply put, Big Data is giving us a brand new way to see things.
When we began The Human Face of Big Data project, I was skeptical of the many claims I heard that Big Data might one day turn out to be more transformative than the Internet. Having now spent a year working with more than 200 journalists, designers, writers and programmers to capture how this new tool is touching our lives, I've become a convert.
The Human Face of Big Data large format illustrated book and iPad app is our attempt at capturing this extraordinary knowledge revolution that's sweeping, almost invisibly, through business, academia, government, health care, and everyday life. We've presented it in the form of more than 200 stunning images, infographics and compelling essays, and the iPad app includes videos, interactive charts and graphics. We spent months finding photographs and compiling assignments for professional photographers that we dispatched all around the world. The pictures have an amazing sense of intimacy – people in more than 30 countries are featured and in every case the theme is about how data, sometimes big and sometimes soon to be big, is touching such an astounding array of human life around the world today.
Some of the experts we interviewed in the course of putting the project together have gone so far as to describe Big Data as being akin to the planet suddenly developing a nervous system. We thought this would be the perfect time to spark a global conversation about this new set of emerging technologies that are affecting aspects of our existence in ways our ancestors could never have imagined in their wildest dreams.
The iPad app costs $2.99 and is available for download today. All proceeds from app downloads will be donated to Charity: water, a non profit organization bringing clean, safe drinking water to people in developing nations. The Human Face of Big Data book can be purchased on Amazon, Barnes & Noble or Indie Bound.